Home page
Three St Peter's Fellows Promoted to Professorial Titles at the University of Oxford
22 August 2022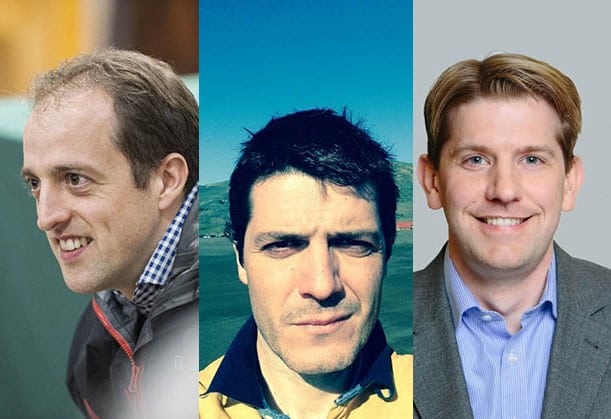 St Peter's College is pleased to congratulate Thomas Adcock, Marc Macias-Fauria and Charles Monroe, who have been awarded full professorships at the University of Oxford.
Tom Adcock, Professor of Engineering Science, tutors structures and dynamics at St Peter's and Exeter College. His research group looks at how engineers understand the ocean environment and how this interacts with offshore and coastal infrastructure. Much of his work focuses on ocean waves but he also works on tides and storm surges. The main application of his work is offshore renewable energy.
Professor of Biogeosciences Marc Macias-Fauria is an ecologist who focuses on physical and biological processes in cold environments. His research areas include spatial ecology, ecological interactions, vegetation resilience to climate change, sea ice ecology and arctic Holocene biodiversity. Prof Macias-Fauria teaches geography at St Peter's College.
Charles Monroe, Professor of Engineering Science, teaches engineering at St Peter's College. His research focuses on the development and modelling of electrochemical devices for energy storage and conversion. Prof Monroe led the EPSRC Materials Research Hub for Energy Capture, Conversion, and Storage, and currently pursues several projects with the support of the Faraday Institution. His research group collaborates with and has received funding from such multinational companies as Siemens, Robert Bosch LLC, Ford Motor Company, General Electric, and Procter and Gamble.
St Peter's also congratulates Francis Leneghan for his promotion to Professor of Old English. Prof Leneghan is a Fellow of St Cross College and Stipendiary Lecturer in English at St Peter's College. At St Peter's, he teaches Medieval English Language and Literature.
The full professor promotion is awarded to those who have made contributions to leadership, teaching and research within the University and within their affiliated department(s) and college(s). The College community proudly congratulates each of our Fellows and Prof Leneghan for their significant accomplishments.