Home page
Dr Sanjay Ramakrishnan wins two national health research awards
16 January 2023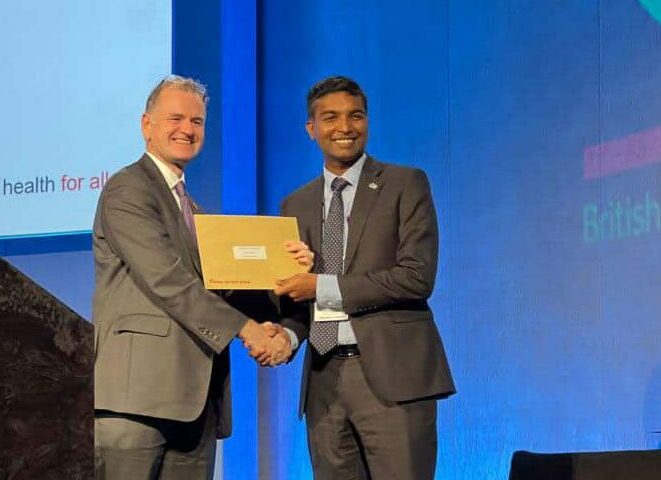 Congratulations to physiology lecturer Dr Sanjay Ramakrishnan, whose clinical respiratory research has been recognised with national awards from the British Thoracic Society (BTS), National Institute for Health and Care Research (NIHR CRN) and Asthma + Lung UK Research (ALUK).
Dr Ramakrishnan, who tutors first and second-year undergraduates and first-year postgraduates in physiology at St Peter's College, is also a clinical researcher whose work focuses on the physiology and biology of asthma and COPD (chronic obstructive pulmonary disease) attacks and evaluates possible treatments for asthma and COPD patients.
His research became all the more urgent during the COVID-19 pandemic, as COVID-19 is an illness that often includes respiratory symptoms and can cause significant and risky complications for patients with existing respiratory diseases like asthma and COPD. Early in the pandemic, Dr Ramakrishnan worked on clinical trials addressing treatments for COVID-19. He led the STOIC trial, which was the first study to demonstrate the positive impact of the drug budesonide in reducing urgent care in COVID-19 patients.
At the November 2022 British Thoracic Society (BTS) Congress, his contributions supporting respiratory research, including his leadership of the STOIC trial, were recognised with the BTS and NIHR Clinical Research Network (NIHR CRN) Excellence in Research Prize - Early Career Investigator Award.
Dr Ramakrishnan's research received further recognition at the BTS Congress, winning the Asthma + Lung UK Early Career Investigator - Highly Commended abstract prize for his article, 'T5 Point of care blood eosinophil guided oral prednisolone for COPD exacerbations: a multi-centre double blind randomised controlled trial (The STARR2 trial)'.
In a statement released by the NIHR, Professor Tony De Soyza, NIHR National Specialty Lead for Respiratory commented: 'Respiratory medicine and its vibrant healthcare community has lots to celebrate when it comes to delivering cutting edge research. The Annual Winter BTS event celebrates the improvement in healthcare and science in Respiratory medicine. I am incredibly proud of the passion you bring to tackling our knowledge gaps and I am delighted that your efforts can be more obviously recognised.'
Dr Ramakrishnan said, 'I am so lucky to be working with Prof Mona Bafadhel, who, as my research group leader, has been incredibly supportive with her time and support. Clinical trials are huge team exercises and I must also give thanks to my nursing colleagues and other collaborators.'
To learn more about Dr Ramakrishnan and his teaching and research, click here.