Home page
Dr Timothy Clack's parliamentary engagement on climate and security
9 March 2023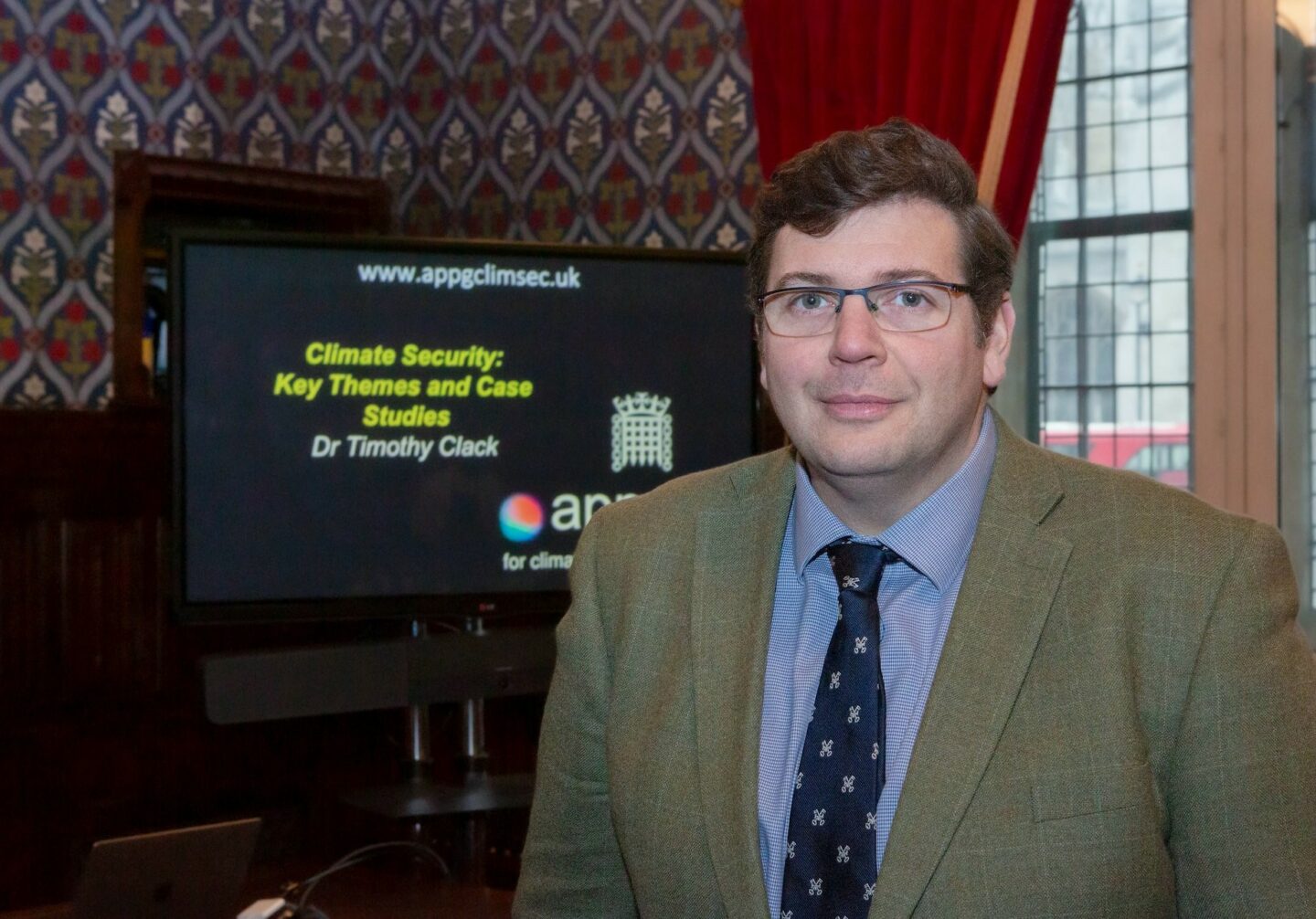 On Monday, 6 March, Dr Timothy Clack presented at the first formal meeting of the All-Party Parliamentary Group for Climate and Security. The meeting was held in the Jubilee Room in the House of Commons.
Dr Clack's presentation, entitled 'Climate Security: Key Themes and Case Studies', discussed water, food and energy security, and how climate change and responses to it are configuring threats in the Sahel, the Arctic and Ukraine.
The APPG for Climate and Security is chaired by Philip Dunne MP (Conservative), and made up of members from across the political spectrum of the House of Commons and House of Lords. There are currently twenty members including Alex Sobel MP (Labour); Wera Hobhouse MP (Lib Dem); Alan Brown MP (SNP); Caroline Lucas MP (Green); and Lord Martin Rees (Cross-bencher).
Dr Clack is the Director of the Climate Change & (In)Security Project, which provides the Secretariat for the APPG. With Lieutenant-General (retired) Richard Nugee, Dr Clack is also co-chair of the Secretariat Advisory Board. 
In late February, Dr Clack gave evidence as an expert witness to the House of Commons Defence Committee on the subject of defence and climate change. Chaired by Tobias Ellwood MP (Conservative), the Committee asked questions on the impacts of climate change over the coming decades in different parts of the world, implications for strategic and operational outcomes, where the UK armed forces should focus their attention and resources, and greening of the defence estate. Major-General (retired) Dr Andrew Sharpe, Director of the Centre for Historical Analysis and Conflict Research (CHACR) also gave evidence in the session.
A transcript and recording of the Defence Committee session is available from the UK Parliament website.
Dr Clack said, 'The opportunity to engage with parliamentarians and policy-makers on climate change and the insecurities that it is creating has been incredibly rewarding. The UK needs to mitigate the effects of climate change, where possible, but also adapt and prepare for the transformations on the horizon.
The APPG is raising awareness across Parliament and facilitating members' engagement with cutting-edge research. Future sessions will explore issues such as climate change as a driver of population displacement, armed conflict, shifts in agricultural practices and competition for rare earths.'
Learn more about Dr Clack and his teaching and research here.