Home page
St Peter's marks topping out milestone at Castle Bailey Quad development
13 March 2023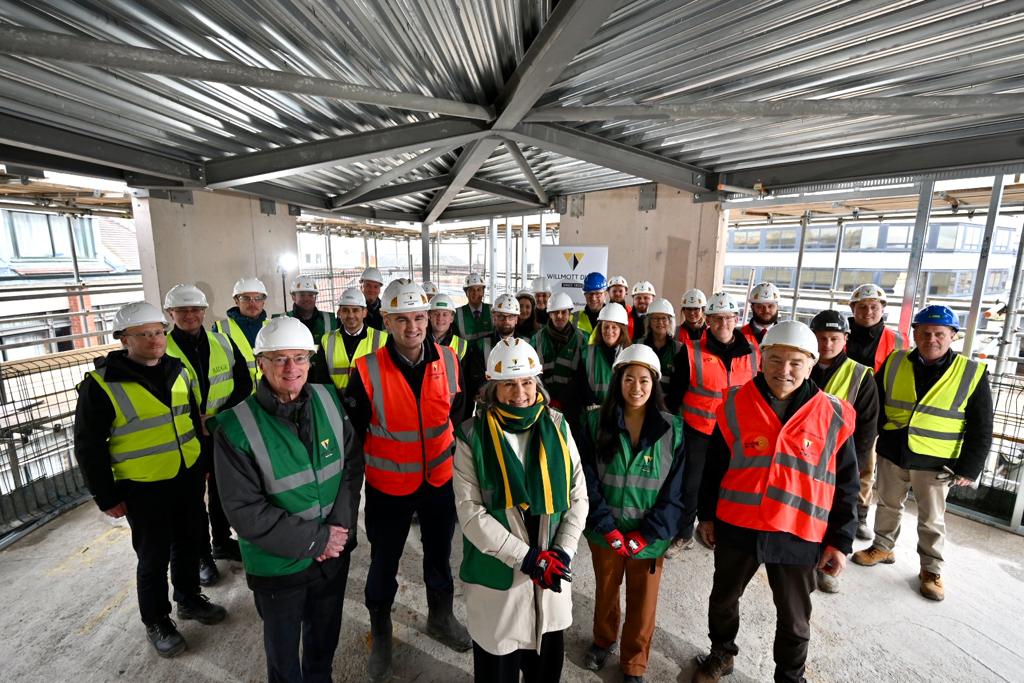 On 1 March 2023, St Peter's College and contractors Willmott Dixon marked the moment when construction work at the Castle Bailey Quad development reached its highest point. The Master, Professor Judith Buchanan, College's Senior Fellow, Professor Mark Moloney, an alumnus, Mr Richard Harding, and a student representative, Alice Yu, participated in a traditional topping out ceremony with several members of College in attendance.
St Peter's College acquired the Castle Hill House property on New Road in 2018 and soon after announced plans to develop the site into an impressive expansion of the College's existing estate. The crowning features of what will become Castle Bailey Quad are two new student housing buildings, Damazer House and Westfield House—providing 54 new rooms built according to ecologically demanding Passivhaus standards. Very many friends and supporters of St Peter's College have given generously in order to help the College build this much-needed additional student accommodation.
Richard Poulter, Willmott Dixon's managing director in the south, said, 'It is wonderful to be celebrating this milestone on a cutting edge, ultra-low energy residential building that will meet Passivhaus standards. The building will be in keeping with the College's philosophy of "honouring the past, building for the future", allowing students to benefit from housing in one of the UK's most sustainable residences.'
Marking the moment in a brief speech, Prof Buchanan said, 'St Peter's College is a beautiful college, but bijou in scale. This exciting new development, right on our doorstep, represents a step-change expansion of the estate. The provision of more high-quality student accommodation on site will benefit students of the College for generations to come. We look forward to seeing students in residence, enjoying all the benefits that community living brings.'
The topping out ceremony at the Castle Bailey Quad construction marked a special moment in the ambitious and successful Castle Hill House campaign, supported by a remarkable record 1 in 10 St Peter's College alumni. The new buildings are scheduled to open for students in Michaelmas term 2023.
(Image credit: ©Willmott Dixon, Peter Langdown)