Home page
The Anjool Maldé Scholarship Celebrates Its Ten-Year Anniversary
2 December 2021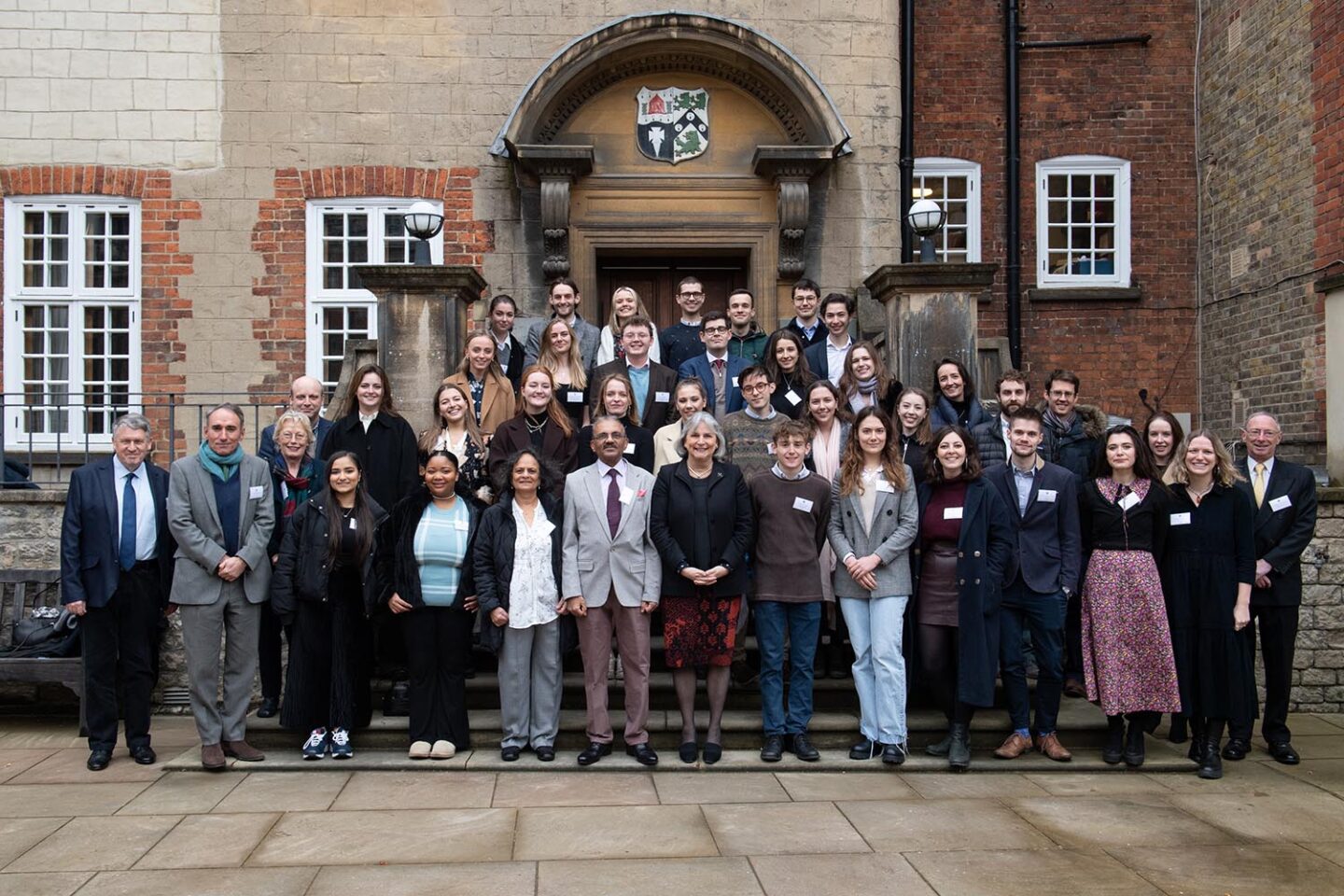 'Do good and do well.'
For ten years the Anjool Maldé Memorial Trust has provided valuable funding and recognition for St Peter's students who do both.
The Anjool Maldé Scholarship Programme at St Peter's College commemorates St Peter's former student Anjool Maldé (Geography, 2005), who died young, in tragic circumstances, in 2009, just before his 25th birthday. In his memory, Anjool's family and friends established the Anjool Maldé Memorial Trust to support young people. Amongst its projects is the Anjool Maldé Scholarship Programme which recognises and supports promising St Peter's students who demonstrate academic excellence and make a significant community contribution.
To mark the tenth anniversary of the scholarship, St Peter's College hosted a reunion luncheon for scholars from across the years, friends of the Anjool Maldé Memorial Trust – Gemma Shaw, Ella & Paul Williams, Rick Saunders – and two very special guests, Anjool's parents, Bharat and Naina Maldé.
Peter O'Connor (Theology, 2009) was among the first three students to be selected for the award in 2011. In a speech at Saturday's event, he commented on the immediate and long-term impact of his award: 'The Anjool Maldé scholarship gave me the financial cushion I needed to focus more on my studies in 2012; but moreover it made the value of philanthropy in Higher Education tangible in a way that has made a lasting impact on my own giving.'
Recent graduate Nandipa Mabere (History of Art, 2018) also emphasized how the award helped her navigate the final year of her degree during the COVID-19 pandemic both with a financial boost and a sense of achievement and belonging.
This year, four students were selected for the award. Weronika Galka (Jurisprudence, 2019), Solace Hussein (Engineering Science, 2018), Krzysztof Kropidlowski (PPE, 2019) and Abigail MacBain (Earth Sciences, 2019).
Bharat Maldé, Anjool's father and chair of the Trust, shared his reasons for supporting St Peter's students, 'There is something magical about St Peter's College that embraces everyone who joins the community,' he observed. 'Anjool Maldé scholars are incredibly versatile in what they study and bring to the College community, but what you each have in common are the qualities of resilience, self-determination, concern for others and humility that doesn't need to be flashy.'
These unique characteristics were indeed evident in the stories shared throughout the day. Many former scholars work in careers with a distinct social-enterprise flavour, and all four 2022 scholars were celebrated for significant outreach and community activities both within and beyond the St Peter's community. Weronika and Abigail, for example, participated in several support events for prospective and new students applying or adjusting to St Peter's and Oxford. Solace helped organize a 10-day engineering and innovation workshop for teens in rural India. Krzystof led an international access initiative helping high schoolers apply to Oxbridge and other top universities for free.
Professor Judith Buchanan, Master of the College said:
'The 10-year anniversary of the Anjool Maldé Awards at St Peter's College provides a moment in which to take stock. As we review what this imaginative scheme has achieved across the past decade, we are struck by the quality and character of the 64 scholars who have now been the beneficiaries of this generous award in College. In remembering Anjool, this excellent scholarship scheme brings both significant encouragement and material support to young lives at a crucial point in their studies and we are delighted, year on year, to see the attributes and achievements that it recognises and the real difference that it makes. It has been such a pleasure to invite back all awardees to mark the 10-year anniversary of this very fine award programme. And to present this year's fine awardees with their certificates in the presence of Anjool's parents and friends was particularly special.'
- Hannah Hempstead