Home page
St Peter's student entrepreneur team wins All-Innovate Competition
7 December 2022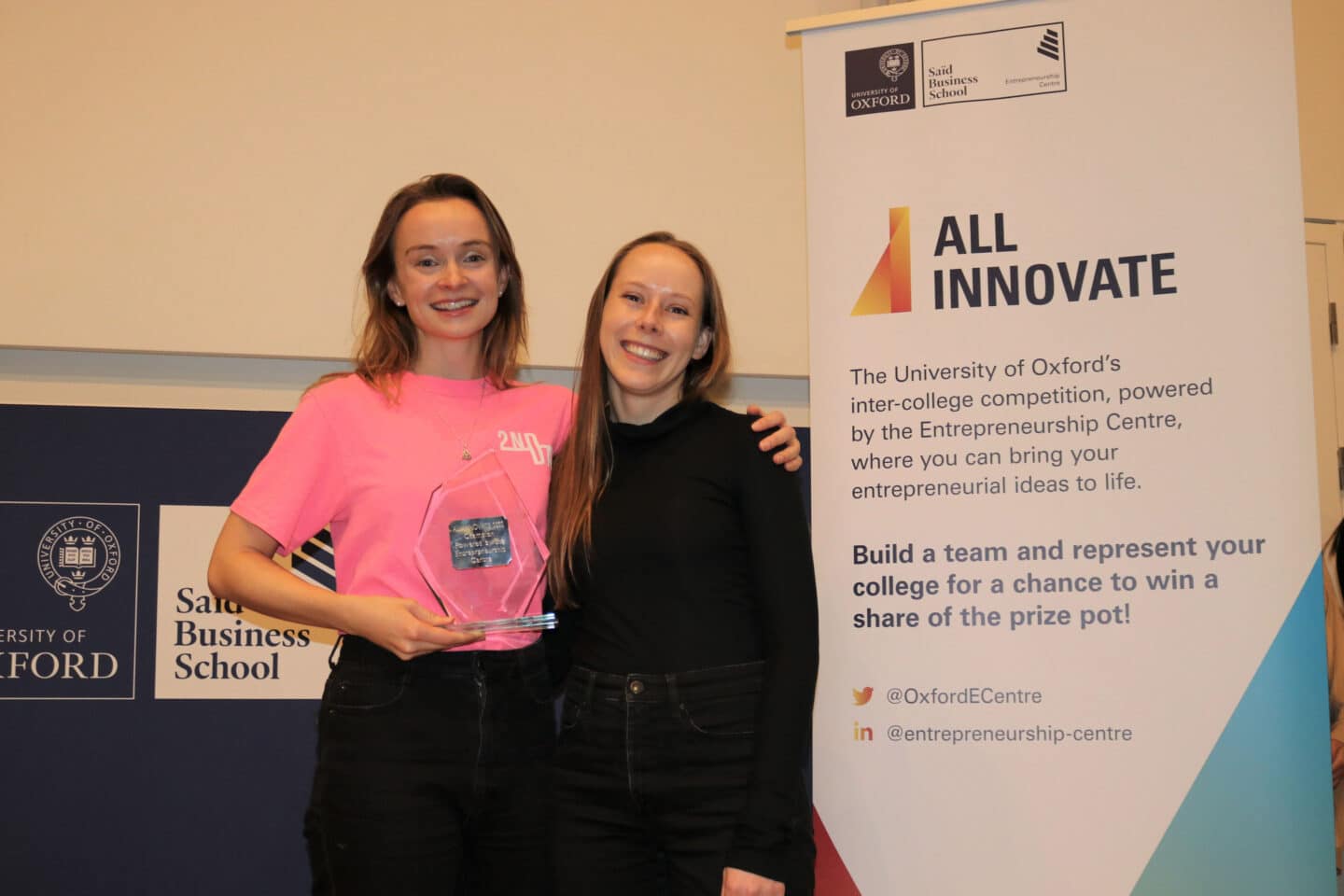 Congratulations to the St Peter's student entrepreneur team, the first-prize winners in the Saïd Business School's Entrepreneurship Centre All-Innovate competition.
All-Innovate is a competition run by the Saïd Business School's Entrepreneurship Centre in collaboration with all Oxford colleges. Students pitch their entrepreneurial ideas for a chance to win a share of £30,000 and prizes are awarded to the strongest ideas that address real challenges and can achieve impact. The competition aims to encourage all students at Oxford, regardless of discipline or level of study, to develop an entrepreneurial skill set and generate entrepreneurial ideas.
Brigit Goebelbecker of St Peter's and Zoe Woods of Pembroke College, both postgraduate students, collaborated on the St Peter's team entry, Second Day, an online matching platform that focuses on making social impact jobs accessible to diverse talent communities. Their goal? Connecting more social impact employers with more job candidates with lived experience.
Brigit said, 'We entered the competition to spread the word about Second Day and to see if our experience in the USA would resonate with the international population at Oxford. I was blown away by how much our work clearly resonated with people from all over the world. The 'social impact talent gap' (the gap between the organizations working to make the world a better place and the talent with the lived experience to make that a reality) is enormous and it was validating to hear from so many people who feel similar challenges. This shared frustration with the problem is what keeps us going, and has fuelled us to broaden our perspective on the problem.'
The prize money will help Brigit and Zoe build on the beta version of their online platform.
Brigit said, 'We will draw on what we have learned through working with first-generation and low-income students about how to communicate job opportunities, frame their skills and aspirations and incorporate behavioural nudges to guide follow through. At the same time, we will create a smooth user experience for employers that guides them towards more accessible recruitment practices while ensuring time-saving and reducing churn. By reducing the administrative burden on our staff, we will ensure their time can be focused on student experience and scale.'
Learn more about the All-Innovate competition here.