Home page
Pieter Garicano (PPE, 2020) wins Trench Gascoigne Essay Prize
15 December 2022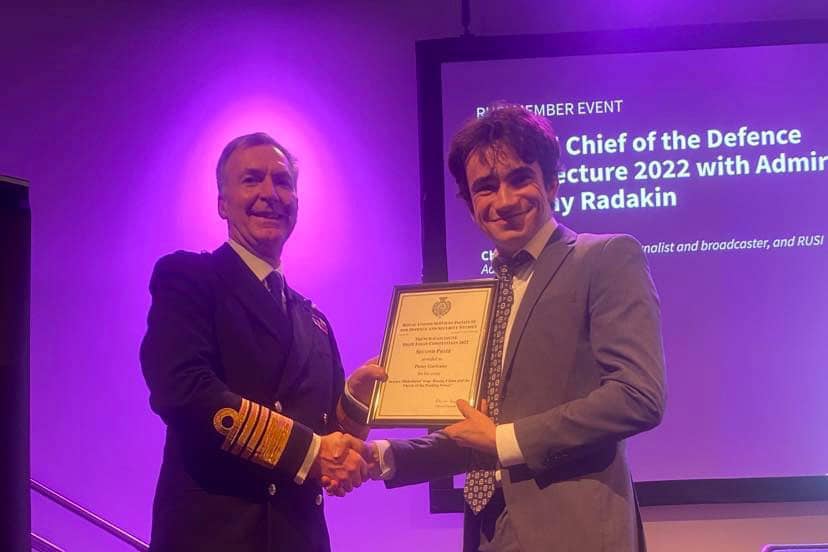 Congratulations to Pieter Garicano (Philosophy, Politics and Economics, 2020), who has been awarded Second Prize in the Trench Gascoigne Essay Competition for his essay, 'Beware Mithridates' trap: Russia, China and the Threat of the Peaking Power'. The Trench Gascoigne Essay Competition is a contest for thinkers and practitioners in the field of International Security held by the Royal United Services Institute (RUSI). The awards are made on the basis of originality, logical argument, sound analysis, style, clarity and conciseness.
Pieter's winning essay offered a new reading of the Thucydides trap, arguing that it is not the inevitability of the rising power surpassing the hegemon that is fertile ground for conflict, but instead the possibility that it won't. The prize was awarded by the Chief of the Defence Staff, Admiral Sir Tony Radakin. The essay will be published in the RUSI Journal.
Pieter said, 'I'm very pleased and surprised to have done well in the competition. It's a great honour, both to win the prize and be able to receive it from the Chief of the Defense Staff.'
St Peter's is proud to celebrate our students' achievements and congratulates Pieter for this notable recognition of his essay.