Home page
Four St Peter's College Students to Travel to Ghana with the Oxford University Rugby League Football Club
24 June 2022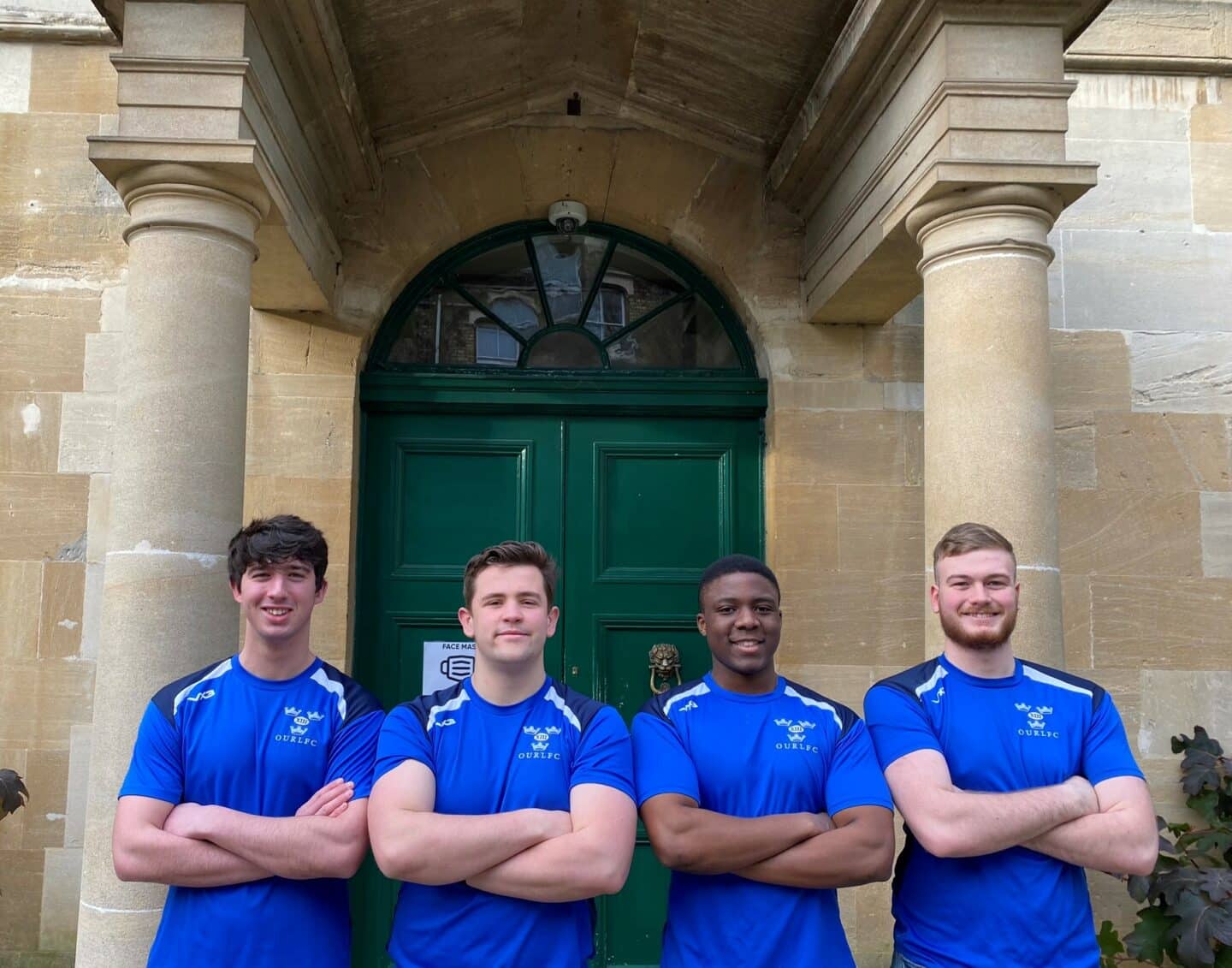 St Peter's College students Brian Kwizera (Biochemistry, 2019), Gus (Fergus) Sandham (Jurisprudence/Law, 2020), Reuben Harris (English, 2019), and Ryan Parry (Economics and Management, 2019), all members of the Oxford University Rugby League Football Club (OURLFC), celebrated an 18-14 win in the 2022 Varsity Match versus Cambridge this March. While the Varsity Match typically marks the conclusion of the OURLFC season, this year the teams have been hard at work training through Trinity term in preparation for a tour to Ghana.
The two-week trip, set to take place in July, will include outreach and community work and two game series against Ghana's national Rugby League team and national B team (President's XIII). The team will give out rugby kit and jerseys as part of a University of Accra outreach initiative to help grow awareness of the sport in Accra and the surrounding cities and rural areas.
Ryan, the captain of the dark blues and a finalist in Economics and Management, commented on the value of the outreach programme planned for the tour: 'In Ghana, the University of Oxford is well-known, and so is the UK, but rugby isn't as widely recognised. We are trying to promote the sport in addition to participating in community days and mentorship schemes. I believe sport can and should cross socioeconomic and cultural boundaries and bring people together.'
All four students agreed that playing rugby, especially with a four-strong group of fellow Peterites, has been a crucial component of their University experience.
Gus, a second-year in Law, highlighted the importance of his fellow St Peter's rugby players to his experience: 'It's good to be playing rugby in Oxford. I come from the North of England, and the rugby we play in Oxford is different from the style I was used to playing. It has been great to have a strong St Peter's contingent to make College, Oxford and University rugby feel welcoming. I wouldn't have had the opportunity to travel internationally had I not come here.'
Training and preparations for the trip are ongoing throughout Trinity term, a busy exam season for most Oxford students, especially finalists like Brian, Reuben and Ryan. While acknowledging the challenge of an additional commitment, all four students agreed that preparation and training have added valuable structure and purpose to their studies.
'We've been collecting jerseys and kit to give out as part of our outreach work. We're even bringing some old jerseys from the St Peter's College rugby team!' said Reuben, a finalist in English.
Brian, a third-year biochemist, shared his hopes for the trip: 'I am looking forward to our community outreach work. I've played rugby since I started secondary school, and it's one of the most rewarding things I've ever done. I am excited to promote the sport and hopefully see the game grow, giving others the same opportunity it has given to all of us.'